Here's a map that focuses a bit closer on the location of the Unconference itself.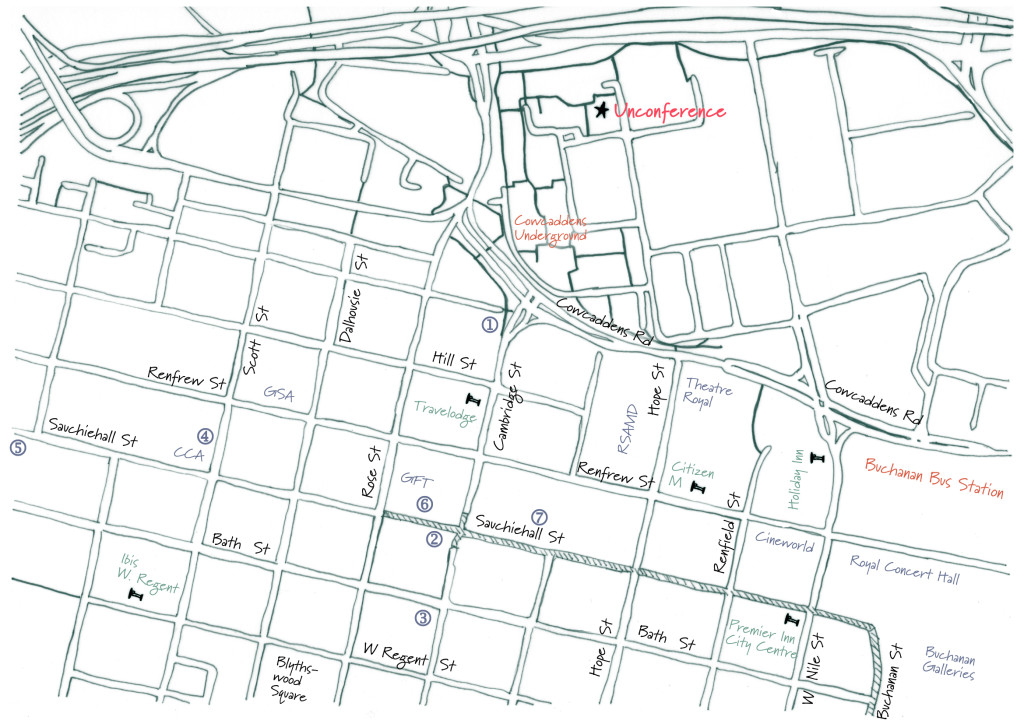 There are walking paths from Cowcaddens Underground to Dundasvale Residents' Hall.
If you are arriving by bus, there is a bus stop directly across Garscube Rd from the Underground stop. The 7, 7A, 60, 60A, 61, and 75 stop here. The 6 and 6A stop nearby on W Graham St as well.
If you are arriving on foot, there are pedestrian paths off of Cambridge St that go under Cowcaddens Rd. and bring you to the underground station, where you can continue on to the Residents' Hall. Walking paths are denoted by a thick, solid line.
The nearest free cash machine is located outside either the Tesco Metro (6 on the map) or M&S (7 on the map). There is a charge cash machine outside of the Travelodge.
A few places to eat and drink:
There are many options along Sauchiehall St and Bath St so feel free to wander and try whatever takes your fancy. I pointed out some tried and tested places on the map as well.
1) The Wee Curry Shop—Part of the Mother India chain of Indian restaurants. Always tasty and a good bet for veggies and meat eaters alike.
2) Costa Coffee—There's also a Starbucks at the corner of Sauchiehall St & West Nile St, if you prefer. If you like more artisanal coffee, Gordon St Coffee at Central Station is very good, as is Labritorio Espresso, tucked away on West Nile St between W Regent St and Bath St.
3) Butterfly and the Pig—Quirky and shabby chic restaurant with a sense of whimsy. The menu changes often but is always good. Good place if you've got a gluten-intolerance as well.
4) CCA/Saramango—The Centre for Contemporary Arts hosts exhibitions, films, and performances. It also has a bookshop, a lovely cafe/bar downstairs and full bar upstairs. Definitely worth a peek. The bar and cafe/bar are run by the folks who own Mono, Stereo, the 78 & the Flying Duck (bar), so definitely vegetarian & vegan friendly! I can also recommend all of those places, along with the 13th Note for good veggie and vegan fare.
5) Further down Sauchiehall St you'll find the usual Wetherspoon's pub (cheap & cheerful!), a Pizza Express (good for GF), and Glasgow institution Nice 'n' Sleazy's. Not even a fire can keep this place down. Loud music and good burgers are staples here.